USA has just gone through a serious political crisis and it is not over as yet. While they may have a new Government as you read this today, the politics in recent weeks has left many across the world shocked. And yet, America inspires hope in several ways. In the middle of the worst pandemic in which 25 million Americans have been affected, several stories of neighbourhoods, people helping each other and generosity has come up. In the midst of a political crisis, the voices of sanity, of peace and non-violence has sprung up. In the middle of last year's major protests during the Black Lives Matter movement, several new ideas, questions, challenges were posed by the country and its citizens to itself and many have transpired into policies and initiatives and perhaps the most diverse colored government takes oath today as that country tries to eclipse the diverse power centres that visibly held sway for some years.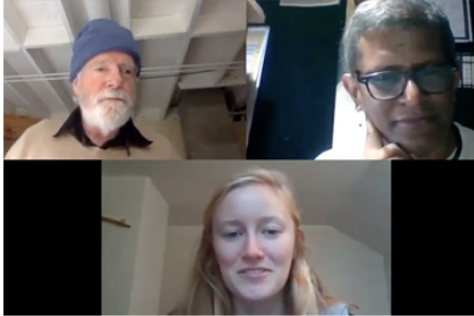 It was in this context that I interviewed Ms. Ania Wright, an young Climate activist from Bar Harbour on the east coast of the USA facilitated by Gray Cox. Her concerns, ideas and thoughts are representative of her generation and truly something that can inspire youth everywhere.
Ania Wright, 23, a climate organizer and activist. Her list of initiatives includes serving as the Youth Representative to the Maine Climate Council; helping found both Maine Youth for Climate Justice and the Downeast Climate Emergency Action Coalition; and co-authoring the Climate Justice Syllabus. Ania's involvement in climate organizing stems from her desire to address issues of climate change with a just and equitable framework. She advocates for changes that will address the effects of climate change that are disproportionately felt by low-income and marginalized communities. Ania's work at global, state, and local levels has allowed her to gain the knowledge and skills to translate the global issue of climate change to local and state action. More about her work here - https://www.brookieawards.org/ania
This interview was recorded couple of months ago and was to be published earlier, however due to some technical challenges at my end I couldn't do so. But, the current US election results and its associated change provides for a better opportunity to hear to younger voices. So, I am happy to present this interview as one voice of freshness that highlights in that battered country, Hope and Promise. Here is wishing them a speedy healing and peaceful economic recovery into a path of responsible global presence.