Indian System of Management – An Introduction: Samanvaya, 2004
One of the principle anchors for Samanvaya remains the rootedness in the Indian Ethos through an understanding of the foundational texts, and, even more from a study and interaction with the traditional people's institutions of India. An introductory booklet of a series on the "Indian System of Management" was published by Samanvaya in 2004.
Quintessential Gandhi: Pawan Gupta, Anuradha Joshi, Gita Dharampal, et al. Samanvaya, 2005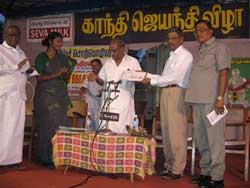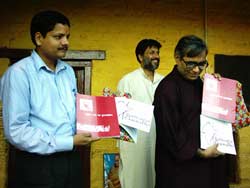 Samanvaya has had a sisterly relationship with SIDH, Mussoorie and its wonderful work on re-thinking education thanks to the founders of SIDH, Sri. Pawan Gupta and Smt. Anuradha Joshi.  When this wonderful couple visited Germany, they held an exhibition along with their host and students at the Hiedelburg University on Gandhi. This phot exhibition later got enlarged, enhanced and published in India by Samanvaya with active guidance by late Sri. Dharampal himself.  This book was simultaneously released in the Lakshmi Ashram, Kousani and the Gandhi Museum, Madurai on the birthday of Gandhiji, 2nd October 2005.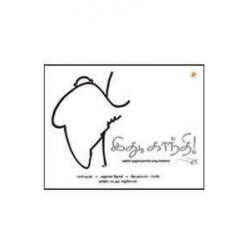 This was one of the last publications that was brought out under the guidance of Sri. Dharampal. He particularly expanded and added to the material on "Gandhi's Challenge to Modernity", where he brought in an entire section on the dialogue and confrontation between Gandhiji and Nehru on what was the way for India to move forward. The resonance of this debate between them is relevant today as India looks at the vast inequality between the urban rich and the rural poor.
Subsequently, the book has  been re-printed by New Horizon books in English and a Tamil translation by Sri. M.R. Rajagopalan, has  been published by Kizhakku Pathipagam as well.
Let's Talk Swaraj: Priya Nagesh, 2006
Since 2000, Samanvaya has been organizing the reading of "Hind Swaraj", a small booklet authored by Gandhiji in 1909 and since then held as the fundamental framework of Gandhi's work by himself and an inspiration for many others since then. The dialogues that were generated in these reading sessions have been rich and several people have subsequently confessed to have been shaken / modified / touched / changed through these dialogues.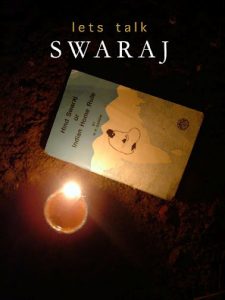 In 2004, Samanvaya organized a month long weekend course on Swaraj, where it brought scholars from across the political spectrum and views to share their thoughts on the ideas of Swaraj as outlined by Gandhiji in the booklet, Hind Swaraj. The curriculum prepared during this session and the amazing lectures given by the resource persons was much appreciated by the participants.
So, in 2006, Samanvaya brought out a publication that had several of these talks on Swaraj, some relevant articles from the Team Samanvaya along with a compilation of the dialogues. This compilation is seen by some people as a essential co-learning material along with Hind Swaraj as it supplements and helps to understand the Hind Swaraj text better in the contemporary context.
Baingan -> Swaraj: Ramasubramanian, Samanvaya, 2012
Samanvaya was actively involved in the campaign against the introduction of GM Crops in India.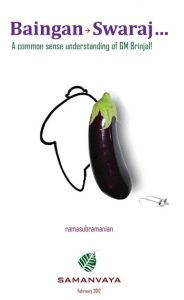 The earliest articles by Chief Samanvaya as a compilation of news, observations and short articles were published in an online portal in 2000. Since then, Samanvaya has been actively participating and lending support to the meaningless and needless agriculture GM technology. As part of a nation wide campaign against the introduction of the Bt Brinjal, Samanvaya offered its office for the campaign to be run out  of and also lend support to several activists under the Safe Food Alliance banner to organize themselves against the Bt Brinjal.
While engaging with several stake holders during the anti-Bt Brinjal, the team Samanvaya encountered several facets of the debate that was insensitive to the idea of freedom of the farmer to choose to hold to his traditional seeds and refuse to succumb to corporate greed and compromise environment. This resulted in an imagined dialogue (not too far from the reality faced during the campaign) that was compiled and publised as "Baingan -> Swaraj" or from 'brinjal to swaraj'.
This publication is out of print currently. A downloadable version will be soon available in the website. 
Videos of Ram, Samanvaya – lectures & talks:
Coming up:
Dharampalji, History re-defined
Samanvaya team was fortunate enough to interact and be actively involved in assisting the late Gandhian historian, Sri. Dharampal. He gave a different understanding to many Indians on the Indian history through his very few books written with excessive care and thorough research over several decades.
His works have gained significant importance with a new generation of Indians seeking to know more about India unfettered with the colonial hangouver or glasses. We hope to soon start publishing several of his compilations with our commentaries and supplmentary works.
Samanvaya Copyright Policy
Royalty and Respect to Knowledge and Knowledge Holders from the beneficiaries is an expression of thanks that is spontaneous, neither regulated by authority nor claimed through force. We are against any commercial restriction on free flow of planet healing knowledge. Please feel free to use information from this site or any of our publications, with or without acknowledgment. If you inform us, we will be thankful and bless you.